Does Age Affect The Risk Of Flu?
Yes. If you are aged 65 years or over or you are at higher risk
Who is at risk?
If you are aged 65 years or over or if you are on regular inhaled steroids
If you have a chronic respiratory disease (including asthma)
If you have chronic heart disease
If you have chronic renal disease
If you are diabetic
If you have a weak immune system
If you live in a long-stay residential or nursing home
If you have a chronic liver disease
If you are a carer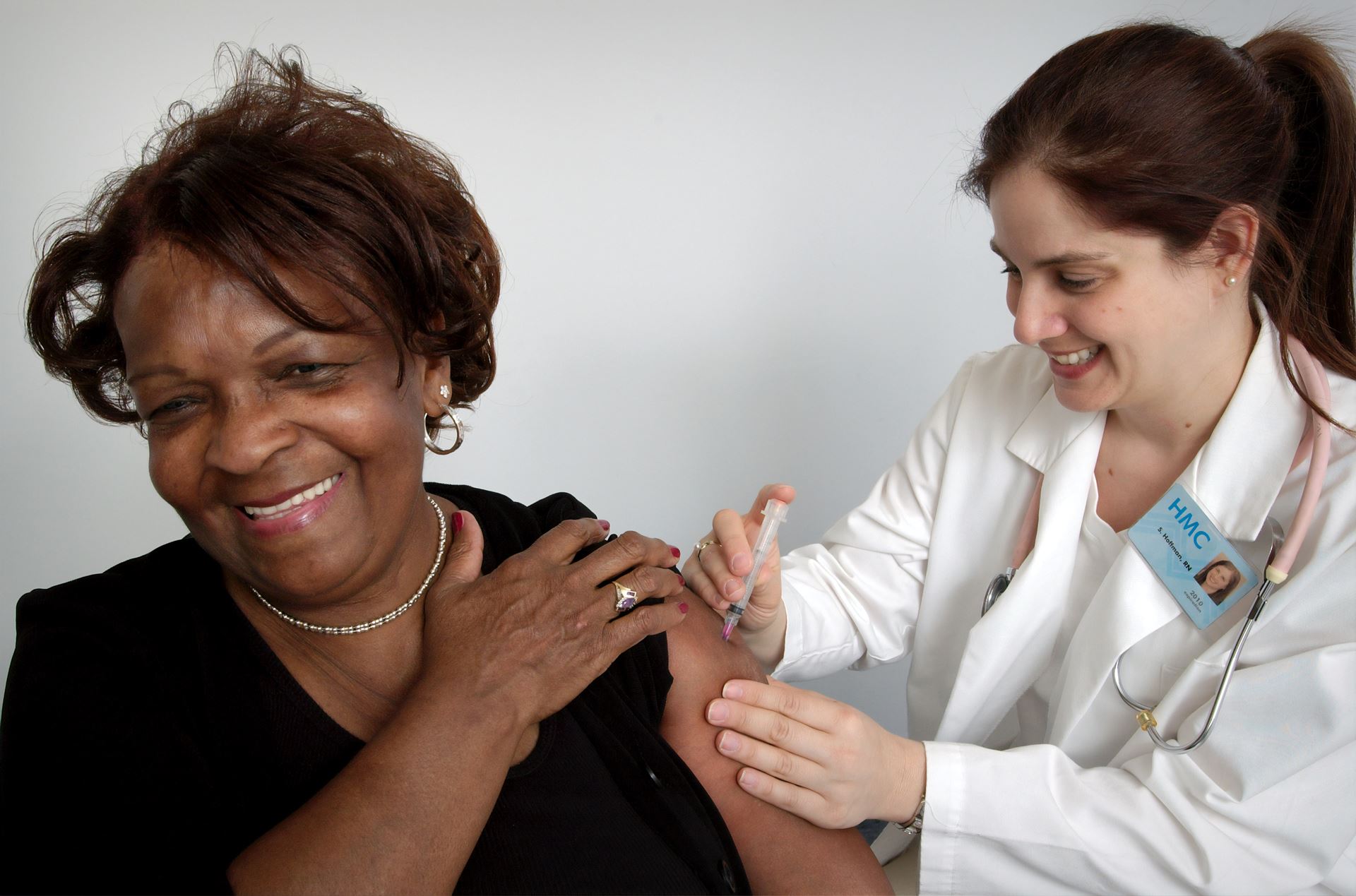 Do I Need To Be Protected Against Pneumococcal Infection?
Everybody aged 65 and over should now be immunised to help protect them against pneumococcal infection which can cause diseases such as pneumonia, septicaemia (blood poisoning) and meningitis. Please phone the surgery during September to make an appointment if the above applies to you.
Childhood Vaccination Programme
Some infectious diseases can kill children or cause lasting damage to their health. Your child's immune system needs help to fight those diseases. Immunisation gives protection against some infectious diseases. Vaccines stimulate the body to produce antibodies that fight infection. Immunisation is also known as 'vaccination', 'jab' or 'injection'.
Immunisation prepares the body to fight serious infections that might happen in the future. Young babies are very vulnerable to infections, so they need to be protected as early as possible.
Your child needs several different vaccines to be fully protected, so it's important to complete their childhood immunisation programme.
for more information follow the following link https://www.nhs.uk/conditions/vaccinations/nhs-vaccinations-and-when-to-have-them/
If your child is due any of the vaccines and you have not been called please call the surgery on 01462 654040. Please do not call at busy times eg 8am to 10am.
Shingles
Also known as HERPES ZOSTER, IS A DISEASE THAT PRESENTS AS A PAINFUL RASH.
Shingles is caused by the reactivation of the varicella zoster virus, the same virus that causes chickenpox. After a person gets chickenpox, the virus stays dormant inside the body for life, usually not causing any problems or symptoms. Our immune system naturally weakens over time as we age which may allow the usually inactive virus to reactivate, causing shingles.
The first signs of shingles can be a tingling or painful feeling in an area of skin, a headache or feeling generally unwell.
Typically, a blistering rash may appear a few days later, on one side of the body only.
The shingles rash most commonly appears on the chest or abdomen, but can appear anywhere on the body including the face.
It can take up to 4 weeks for the rash to heal. Usually, symptoms improve within weeks, however some patients suffer prolonged pain or other complications.
Prevention:
Shingles can be prevented through vaccination. Speak with our nurse or doctor at your next appointment to discuss prevention options. There is a national immunisation programme for shingles available for people aged 70-79. Vaccinations can be booked with our practice nurses.
for more information on Shingles go to the NHS website on condiditons https://www.nhs.uk/conditions/shingles/.
Travel Vaccinations
If you're planning to travel outside the UK, you may need to be vaccinated against some of the serious diseases found in other parts of the world.
Vaccinations are available to protect you against infections such as yellow fever, typhoid and hepatitis A .
In the UK, the NHS routine immunisation (vaccination) schedule protects you against a number of diseases, but does not cover all of the infectious diseases found overseas.
If possible, see the GP or a private travel clinic at least 8 weeks before you're due to travel.
Some vaccines need to be given well in advance to allow your body to develop immunity.
And some vaccines involve a number of doses spread over several weeks or months.
You may be more at risk of some diseases, for example, if you're:
travelling in rural areas
backpacking
staying in hostels or camping
on a long trip rather than a package holiday
If you have a pre-existing health problem, this may make you more at risk of infection or complications from a travel-related illness.
You can find out which vaccinations are necessary or recommended for the areas you'll be visiting on these websites:
Some countries require proof of vaccination (for example, for polio or yellow fever vaccination), which must be documented on an International Certificate of Vaccination or Prophylaxis (ICVP) before you enter or when you leave a country.
Saudi Arabia requires proof of vaccination against certain types of meningitis for visitors arriving for the Hajj and Umrah pilgrimages.
Even if an ICVP is not required, it's still a good idea to take a record of the vaccinations you have had with you.
Find out more about the vaccines available for travellers abroad
First, phone or visit the GP practice or practice nurse to find out whether your existing UK vaccinations are up-to-date.
If you have any records of your vaccinations, let the GP know what you have had previously.
You should also ask if the GP practice is signed up to provide free NHS vaccinations for travel, as not all GP practices are.
If the GP practice does not provide NHS vaccinations for travel, you can try a:
private travel vaccination clinic
pharmacy offering travel healthcare services
The GP or practice nurse may be able to give you general advice about travel vaccinations and travel health, such as protecting yourself from malaria.
They can give you any missing doses of your UK vaccines if you need them.
Not all travel vaccinations are available free on the NHS, even if they're recommended for travel to a certain area.
If the GP practice is signed up to provide NHS travel vaccines, these can be provided to you free of charge.
Other non-NHS travel vaccines may be charged for by the GP.
If the GP practice can give you the travel vaccines you need but they are not available on the NHS, ask for:
written information on what vaccines are needed
the cost of each dose or course
any other charges you may have to pay, such as for some certificates of vaccination
The following travel vaccines are available free on the NHS if your GP practice is signed up to provide vaccination (immunisation) services.
These vaccines are free because they protect against diseases thought to represent the greatest risk to public health if they were brought into the country. For all other travel vaccines you will need to visit a dedicated travel clinic the nearest one to Bancroft Medical Center is https://www.citydoc.org.uk/travel-services/ located in Hitchin.
You'll have to pay for travel vaccinations against:
Yellow fever vaccines are only available from designated centres .
The cost of travel vaccines that are not available on the NHS will vary, depending on the vaccine and number of doses you need.
It's worth considering this when budgeting for your trip.
There are other things to consider when planning your travel vaccinations, including:
your age and health – you may be more vulnerable to infection than others; some vaccines cannot be given to people with certain medical conditions
working as an aid worker – you may come into contact with more diseases in a refugee camp or helping after a natural disaster
working in a medical setting – a doctor, nurse or another healthcare worker may require additional vaccinations
contact with animals – you may be more at risk of getting diseases spread by animals, such as rabies
If you're only travelling to countries in northern and central Europe, North America or Australia, you're unlikely to need any vaccinations.
But it's important to check that you're up-to-date with routine vaccinations available on the NHS.
Speak to a GP before having any vaccinations if:
you're pregnant
you think you might be pregnant
you're breastfeeding
In many cases, it's unlikely a vaccine given while you're pregnant or breastfeeding will cause problems for the baby.
But the GP will be able to give you further advice about this.
For some people travelling overseas, vaccination against certain diseases may not be advised.
This may be the case if:
you have a condition that affects your body's immune system, such as HIV or AIDS
you're receiving treatment that affects your immune system, such as chemotherapy
you have recently had a bone marrow or organ transplant
A GP can give you further advice about this.
As well as getting any travel vaccinations you need, it's also a good opportunity to make sure your other UK vaccinations are up-to-date and have booster vaccines if necessary.
If you have any records of your vaccinations, let the GP know what you have had previously.
People in certain risk groups may be offered extra vaccines.
These include vaccinations against diseases such as:
Read more information on NHS vaccines for adults and children to find out whether you should have any.